1. Alabama Crimson Tide (8-0)
I was tempted to put Georgia at the top of my rankings because of their strength of schedule, but it didn't feel right. Alabama is the dominant force in college football and they should be at the top spot in the rankings as long as they are winning games. Alabama has steamrolled through their schedule but hasn't faced a quality opponent all year (sorry Florida State). That will change next week as the Tide welcome LSU to T-Town for their toughest test of the season after having the week off this week.
2. Georgia Bulldogs (8-0)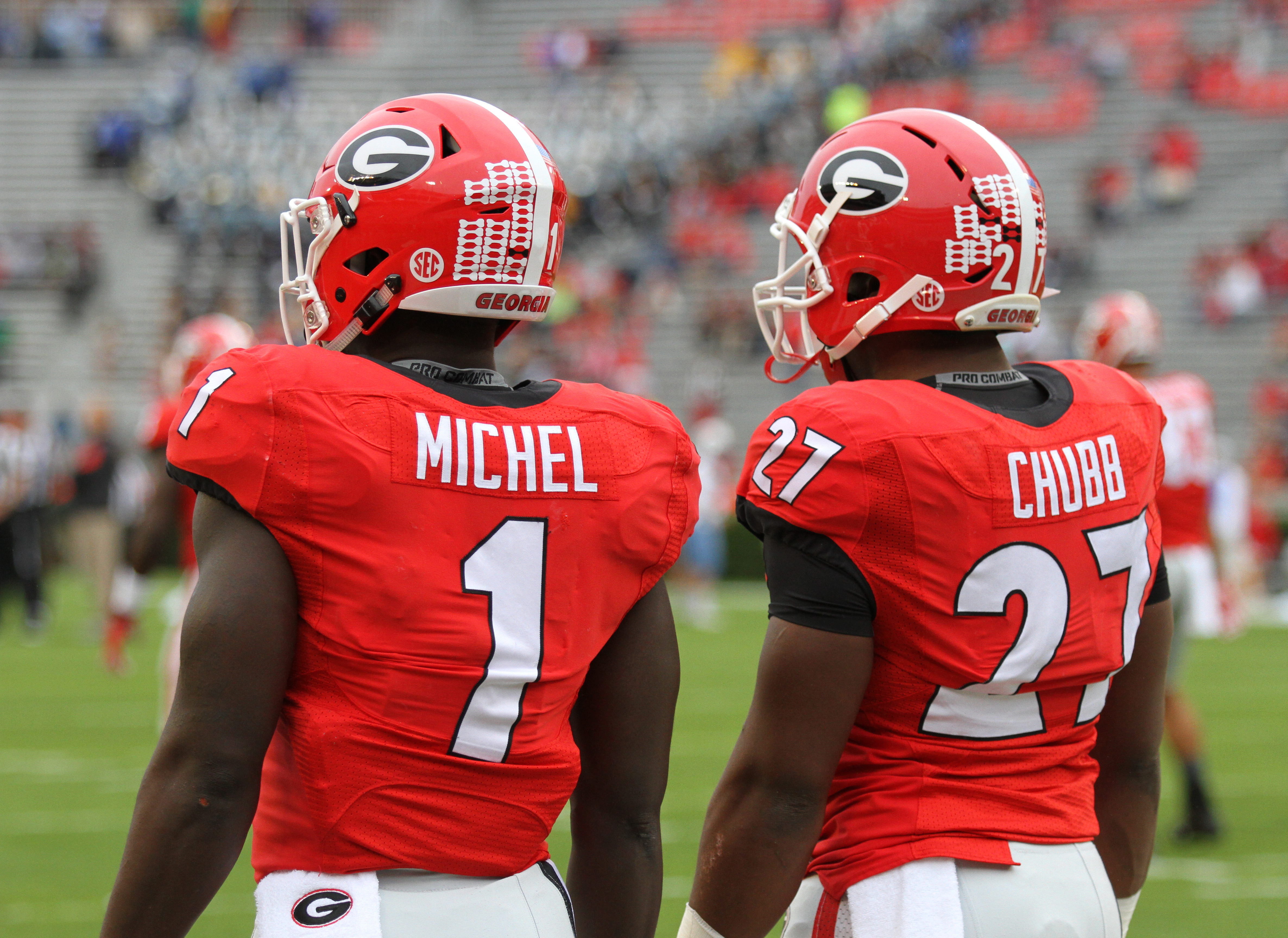 The Bulldogs pulverized Florida in Jacksonville this week, 42-7, with strong play in all three phases of the game. Georgia has been a machine this year and has beaten a number of quality teams, so I wouldn't be shocked if they were ranked #1 in the first College Football Playoff rankings which are being released on Tuesday. Their win on the road against Notre Dame is looking better and better each week, and they have a fairly easy path to a 12-0 regular season, with a game at Auburn on November 11 being their toughest game left on the schedule. UGA hosts the South Carolina Gamecocks next week, who they shouldn't take lightly. Here's to hoping we get a 12-0 vs 12-0, 1 vs 2, SEC Championship game.
3. Ohio State Buckeyes (7-1)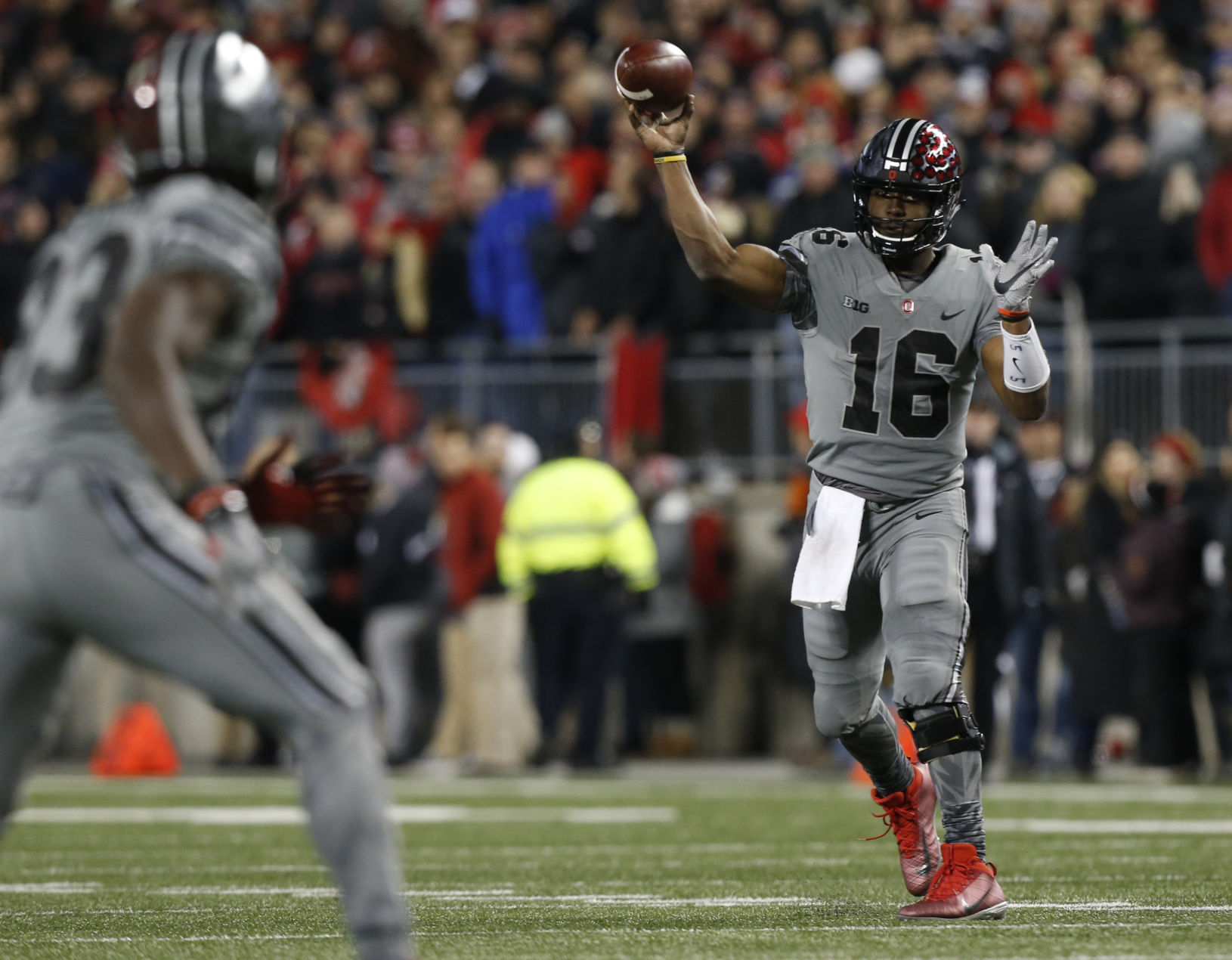 JAY. TEE. BARRETT. On Saturday against Penn State, Ohio State showed that they are in fact a different team than the one that got shellacked at home by Oklahoma in early September. After a sloppy start, the Buckeyes stormed back after trailing by 18 twice in the first half, with their veteran QB leading two Heisman-caliber TD drives in the final minutes of the game to give the Buckeyes a 39-38 victory. It took some time, but JT Barrett is finally back to his old 2014 self (33-39, 328 yds, 4 TD, 17 carries, 95 yards) under new OC Kevin Wilson. Ohio State now controls their own destiny in the hunt for the playoff and they travel to Iowa for a tough road test next weekend.
4 Clemson Tigers (7-1)
I think it's safe to say that the loss to Syracuse was a fluke. With a healthy Kelly Bryant back from injury, the Tigers took care of Georgia Tech and their defense did a phenomenal job bottling up the triple option, winning 24-10. Clemson is back to form and will face a 6-2 NC State team on the road next week.
5. Notre Dame Fighting Irish (7-1)
Boy has Notre Dame looked impressive the last few weeks. The Irish have destroyed two ranked teams in the last two weeks, including a 35-14 win over NC State on Saturday, and they are looking like a strong playoff contender. The road to the CFP doesn't get any easier from here on out as they have 4 above-.500 teams left on the schedule, including games at Miami and Stanford. The Irish welcome Wake Forest to South Bend next weekend.
6 Penn State Nitanny Lions (7-1)
The Nitanny Lions were knocked off track after a 39-38 loss at Ohio State this week. They were unable to sustain many long drives against the staunch Buckeye defense and were clearly outplayed in all facets of the game. Penn State still has a shot at the playoff but will need help from elsewhere. They travel to Michigan State next week.
7. Wisconsin Badgers (8-0)
The Badgers have played no one. They are undefeated but won't play a half-decent opponent until Thanksgiving weekend. They will win the Big Ten West but will need to have a statement game in the B1G championship game to have a shot at the playoff. They face Indiana next week in Bloomington.
8. Oklahoma Sooners (7-1)
The Sooners took care of Texas Tech, 49-27, at home this week, avoiding a letdown a week before Bedlam. Bedlam, perhaps the biggest game of the year in the Big 12, will be next Saturday in Stillwater with the College Gameday crew in town, buckle up.
9. Miami Hurricanes (7-0)
The Canes are unbeaten but haven't looked convincing so far. They struggled to beat a   1-7 UNC team this week, winning 24-19. They welcome Virginia Tech to town next week in a game that should bring out their true colors, before hosting Notre Dame in two weeks. We will learn a lot about the Canes in those games, but for now, I'm not entirely sold.
10. Iowa State Cyclones (6-2)
These Cyclones could very well have won the 2 games they lost and be 8-0 right now. After stunning then #4 TCU, 14-7, behind a stout defensive performance on Saturday, they have wins against 2 top-4 teams and are in first place in the Big 12. They travel to Morgantown to play West Virginia next week.
11. TCU Horned Frogs (7-1)
12. Oklahoma State Cowboys (7-1)
13. UCF Knights (7-0)
14. Washington Huskies (7-1)
15. Virginia Tech Hokies (7-1)
16. USC Trojans (7-2)
17. Stanford Cardinal (6-2)
18. LSU Tigers (6-2)
19. Auburn Tigers (6-2)
20. Mississippi State Bulldogs (6-2)
21. NC State (6-2)
22. Arizona (6-2)
23. Memphis (7-1)
24. West Virginia (5-3)
25. Washington State (7-2)